Features
Tally Arbiter has many features with more being added as the user base grows.
How It Works
Tally Arbiter is so much more than a simple tally light system.
It supports tracking tally data from multiple switchers of different types, at the same time.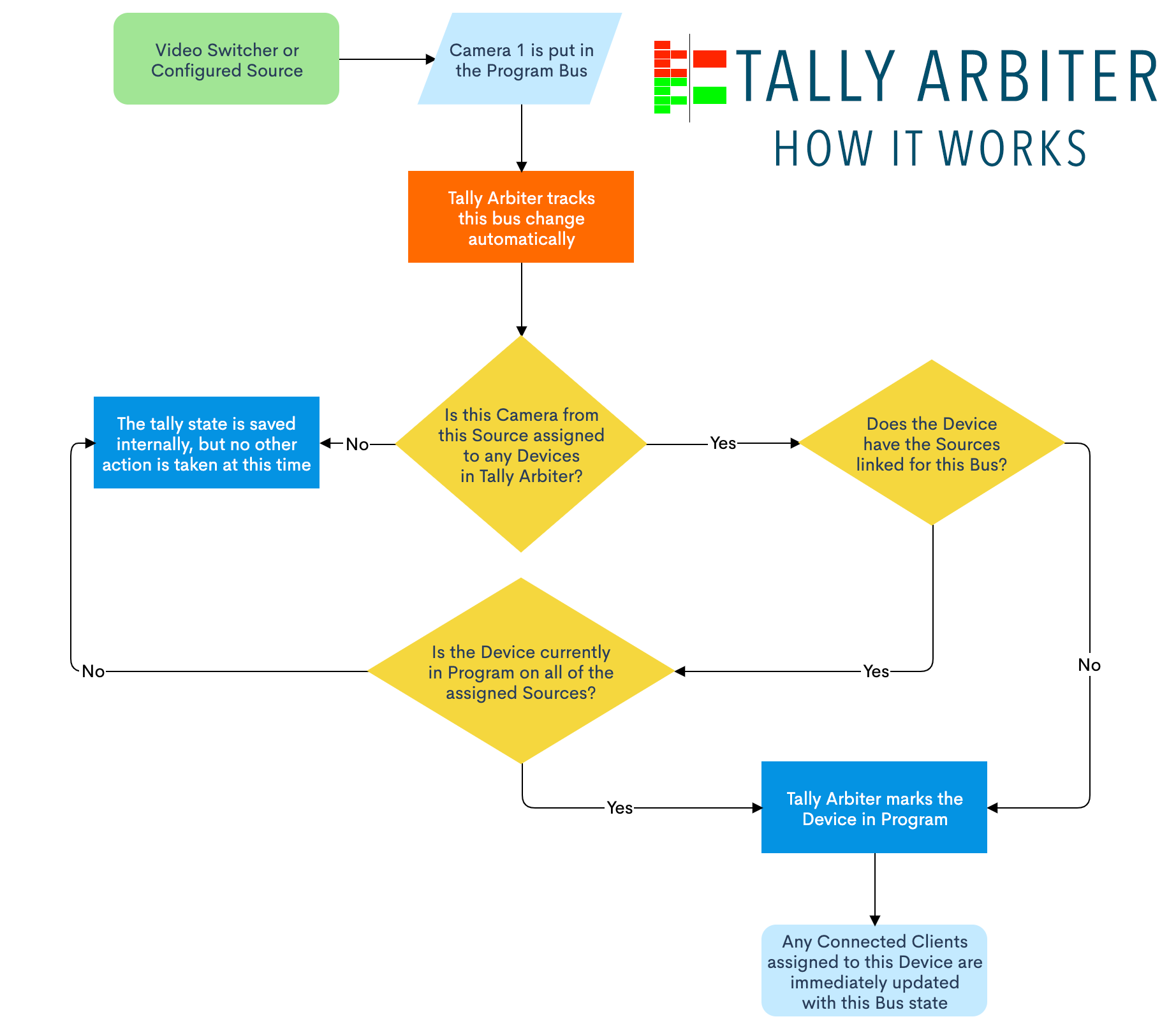 Supported Systems
Tally Arbiter supports many different systems and protocols, with more being added!
Manufacturer
Product(s)
Analog Way
LiveCore Image Processors
Ascender 48 LE - 4K
Ascender 32 LE - 4K
Ascender 16 LE - 4K
Ascender 32 - 4K - PL
Ascender 16 - 4K
NeXtage 16 - 4K
NeXtage 08 - 4K

Blackmagic Design
ATEM Mini, Mini Pro, Mini Pro ISO, Mini Extreme
ATEM Television Studio
ATEM Television Studio Pro HD
ATEM Television Studio Pro 4K
ATEM 1ME Production Studio 4K
ATEM 2ME Production Studio 4K
ATEM 4ME Broadcast Studio 4K
ATEM Constellation 8K
Smart VideoHub 12x12
Smart VideoHub 20x20
Smart VideoHub 40x40
Universal VideoHub 72x72
Universal VideoHub 288x288

FOR-A
HVS-490
HVS-1200
HVS-2000
HVS-6000
Any FOR-A product that supports the TSL UMD 5.0 Tally over Ethernet protocol
Newtek
Tricaster TC1
Tricaster Mini
*Any Newtek product that supports their Tally over Ethernet protocol
Open Broadcaster Software
OBS Studio
Open Sound Control (OSC)
Any software can send tally states into Tally Arbiter via OSC.
Panasonic
AV-HS410
AV-HS6000
Any Panasonic product that supports the TSL UMD 3.1 or 5.0 Tally over Ethernet protocol
Roland
V-60HD
XS-62S
VR-50HD-MKII
*Any Roland product that offers Smart Tally capabilities
Ross Video
Acuity
Carbonite
Carbonite Black
Carbonite Black Solo
Carbonite Ultra
Graphite
TouchDrive
StudioCoast
VMix
TSL UMD 3.1 Protocol
Any device that can send tally data over the TSL UMD 3.1 Protocol is supported
TSL UMD 5.0 Protocol
Any device that can send tally data over the TSL UMD 5.0 Protocol is supported
Download
Head on over to Github and download the Tally Arbiter server software to get started.
View on Github

This is by far the most flexible Tally solution available.

It works flawlessly, we really can't thank you enough for your hard work on this, and generosity in distributing it under the MIT License.

Great work on this project! Huge blessing!

This is awesome! Well done and thanks for sharing!

Thanks for sharing!! We're a small church on a budget and I've been trying to find a way I could set up tally on our ATEM Mini without breaking the bank. You sir, are a scholar and a gentleman!

It's so good! You're incredibly generous to offer this up for other churches to use. Happier volunteers, more coordinated direction, more comprehensive worship experience, more attention on God. Thanks for doing this!

This is so awesome! I have been searching endlessly for a solution like this. I am no programmer but read through your detailed instructions and decided to give it a shot. Just ordered everything. Thanks for working on this, this will really help out our church.

Love this! Will definitely be testing this out this week and hope to implement it soon! Love all that you do on this blog, huge inspiration!
Team
Primary Contributors to the Tally Arbiter Project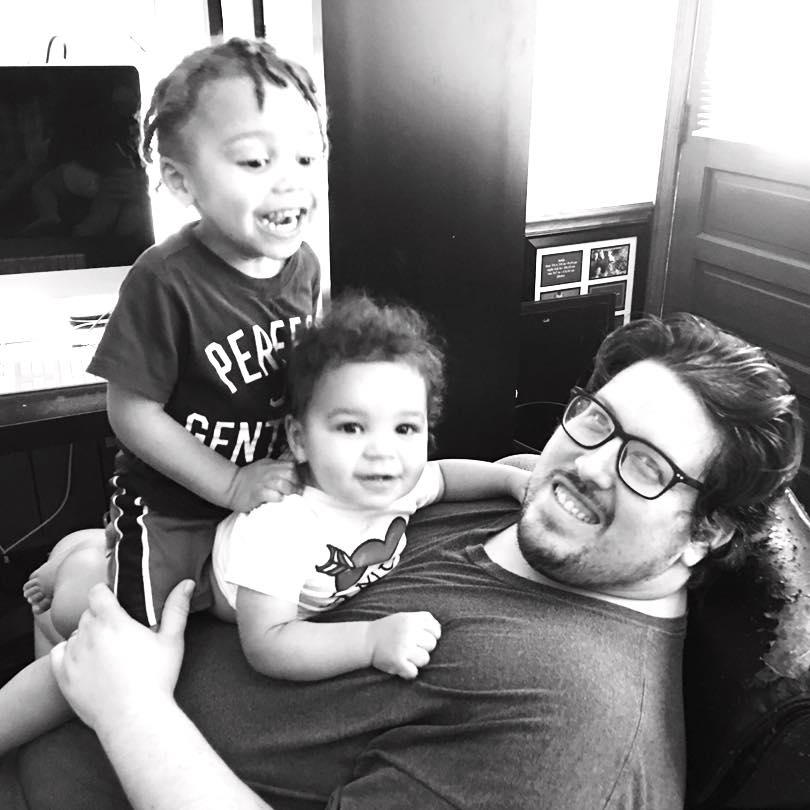 "I wrote this software because we needed a tally system at my church, but I released it open source because I wanted a low-cost and flexible tally light solution to be available to anyone who needs it. You can read more about me and my other projects on my blog,
techministry.blog
."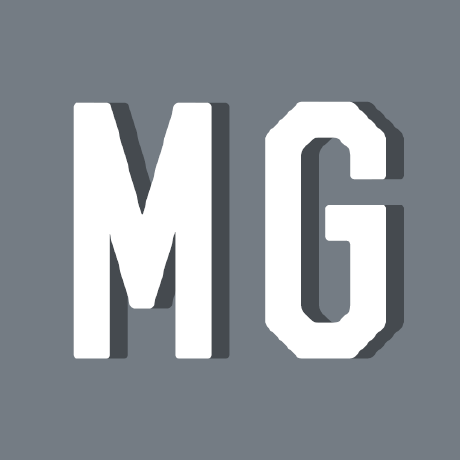 "As a full time AV-Tech in the broadcast industry, I search to find smart solutions that can elevate your production to the next level. Tally systems are always expensive, and this is a cheap start in the right direction. Love to work on it and see what it becomes!"